Weblog #868
Tuesday 2008-12-30 15:37
Author: Ingmarie Nilsson
Övergiven
Inte bara jag som längtar till fredag. Jag tror mina skor längtar efter att få vara tillsammans med.


För visst ser de bra ensamma ut?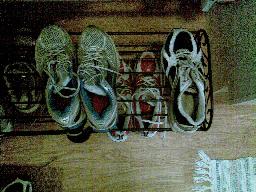 Photo: Ingmarie Nilsson
No comments yet to "Övergiven"
Add comment
No HTML allowed, only good old plain text. The Name, Comments and CAPTCHA fields are mandatory. Note that http:// will be added automatically to your URL.