Weblog #939
Friday 2009-01-16 15:36
Author: Ingmarie Nilsson
A new plaything
Elvira var sååå duktig hos veterinären och i stället för guldstjärna fick hon en ny leksak.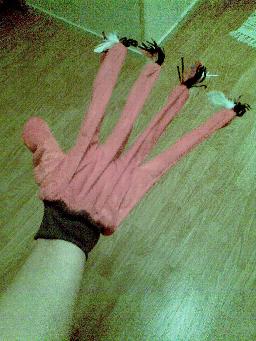 Om hon tyckte den var så himla rolig tål väl att diskuteras.
Hon verkade mest tycka jag var fjantig som höll på och vifta och vinka med långfinger-handsken.

Sprutade kattmynta på den men då ville hon bara kela.
(!)

Klok katt.
För den är fjantig.
No comments yet to "A new plaything"
Add comment
No HTML allowed, only good old plain text. The Name, Comments and CAPTCHA fields are mandatory. Note that http:// will be added automatically to your URL.