Weblog #944
Saturday 2009-01-17 21:59
Author: Ingmarie Nilsson
Invigningen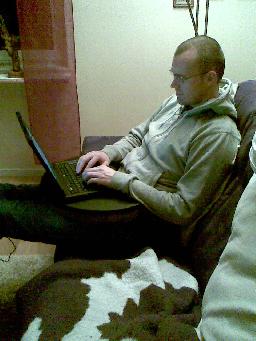 Photo: Ingmarie Nilsson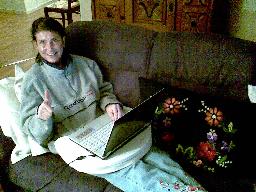 Photo: Anders Gustafson


Vilka nördar vi är va!?
Bara Bingolotterna som saknas.
Och duttpennorna. ;-)

4 comments to "Invigningen"
Sunday 2009-01-18 18:28
Som vanligt har IKEA snott designen och gjort en billig kopia av någon annans idé - vet inte vad jag tycker om det egentligen... Bra att det blir billigt nog för många, men synd om den som kanske inte mönsterskyddat tillräckligt effektivt!
Sunday 2009-01-18 19:22
Va? Hade jag ingen aning om.
Vem var först?
Men visst. Har man en bra idé får man passa sig. Ask me. Det har hänt mer än en gång att jag har haft artikelförslag till en tidning, fått nej tack och några nummer senare har de EXAKT det förslag och upplägg jag föreslagit.
Ruttet!
Och inte ett skvatt kan jag göra åt det.
fast jag gillar mitt "bord".
Oavsett vem som kom på det.
Sunday 2009-01-18 19:54
Ännu en sak man ej kan vara utan.....;)
Fast jag har ju ingen (s)lap(p)top(p)... så jag har inte riktigt detta behov ännu....men vänta bara...

Kram
A-C
Sunday 2009-01-18 21:16
A-C: Ja akta dig! det är mer smittsamt vanebildande än kräksjukan. ;-)
Add comment
No HTML allowed, only good old plain text. The Name, Comments and CAPTCHA fields are mandatory. Note that http:// will be added automatically to your URL.