Weblog #952
Monday 2009-01-19 16:22
Author: Ingmarie Nilsson
Välkommen?
Okej för att jag inte direkt hade förväntat mig röda mattan när jag kom till 08-land.


Inte ens att tåget skulle vara i tid (vilket det faktiskt var) eller att jag skulle slippa vänta på bussen (vilket jag fick), men lite muntrare kunde det väl vara än det här grådasket?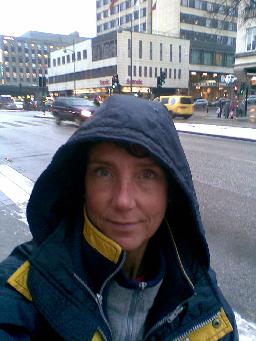 Men jag vet, som vanligt, det kunde ha varit mycket värre.

Hej hopp!
Jag tror i alla fall att kvällen blir kul. ;-)

1 comments to "Välkommen?"
Monday 2009-01-19 21:14
Jag såg bilderna på er med databorden. Haha, vad ni är roliga. Det ser ju riktigt skönt ut. Jag ska fråga min chef om jag får byta ut mitt kontorsbod och min kontorsstol mot soffa och datasoffbord.
Add comment
No HTML allowed, only good old plain text. The Name, Comments and CAPTCHA fields are mandatory. Note that http:// will be added automatically to your URL.